vICTORIAN sTROLLERS ON BARGAIN HUNT!
Somehow Jim and Maureen went up against Gordon and Angela on a soon to be aired Victorian Special Bargain Hunt!
Picture of Bargain Hunt to be screened in September -
Watch for further details!
Victorian Strollers Angela and Gordon Fielding and Jim and Maureen Samuels at the sale part filmed at Cambridge - guess who was the Red Team and who was Blue.
All will be explained on TV how Gordon broke his arm. Readers are not allowed to know who won until the broadcast.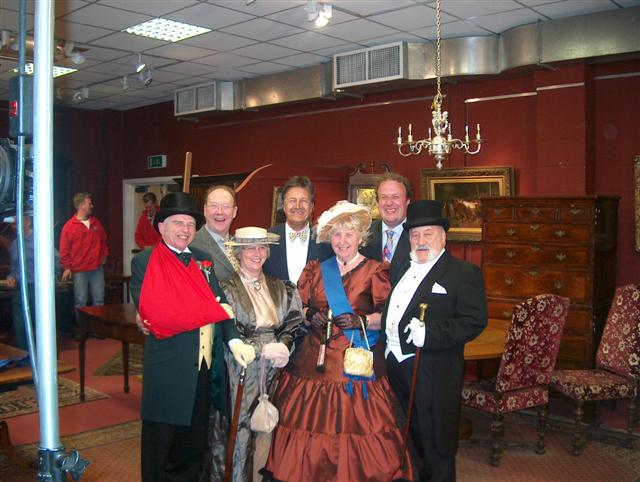 llandrindod wells victorian festival
Congratulations to the Knight family for winning the Best dressed man, and Best dressed family competitions. Although the weather was a bit wet, by all accounts the week was very successful. Much fun was had by all the Victorian Strollers that attended in force this year. We will be back next year. Lots of photos of our members in the Llandrindod papers.
Dickens World
The Dickens world website is now up and running. Opening planned for April 2007. www.dickensworld.co.uk
Rochester Dickens Festival 2006
Please Help. On Saturday 3 June Steve's Fuji Finepix S5000 digital camera was stolen off of the back of Charlie's wheelchair, at the Rochester Dickens Festival, whilst Steve was watching the Competitions in the Arena, in the Castle grounds. Consequentially, we have no pictures of the events that day. If you have any pictures of the day's events please email them to us at: vic.stroller@btinternet.com. Any news as to the location of the camera would be nice. A reward is available.
On a more positive note, Jim Won first prize for his outfit of Colonel, Kings Royal Rifle Corps. in the Best Dressed Victorian Gentleman (Home made) Competition. Steve Took second place with his Major 17th Lancers Home service uniform. I Guess that as Steve made both uniforms, you could say he got 1st and 2nd place in the same competition!
Congratulations to Lou for winning Best Dickens Character as Mr Smallweed from Bleak House. A shining example of not letting a disability get in the way of enjoying life. Lou has Motor Neurone syndrome and has changed his Character to suit his current medical condition.
llandrindod wells victorian festival
It never ceases to amaze me that local councils would rather hire our their facilities to private paying customers rather than supporting their local community, for events that undoubtedly bring vast tourist trade into their towns.
It would appear that this years main events - Balls and dances etc will be held on weekdays instead of the weekends! This is because the council can apparently charge more for a weekend booking than a weekday. Lets just hope that no-one books the Pavilion at those two weekends and that they effectively shoot themselves in the foot. Apparently they wanted to charge the festival £700 per day instead of previous years £650 per week! Now that is inflation busting stuff!!
And what about the new laws on street performers! Public liability insurance (to protect people against the likely dangers of Morris dancers etc wielding lethal sticks, musical instruments and the like) and performing rights licenses at something like £23 per performance!
(These are my views and not those of the Victorian Strollers or the Llandrindod Wells Festival Committee. ed.)
State Ball Monday 21st August
Grand Ball Friday 25th August.
There will be the usual Costume sale, Tea dance etc. Afternoon events in the Pavilion and in and around Town. Possibly more street events and parades.
Rumour has it that there may be a 'Trooping of the Colour' Victorian style, attended by The 1879 Group.
Contact details for the festival:
Victorian Festival Office
Wadham House
Middleton Street
Llandrindod Wells
Powys LD1 5DG
01597 823441